9.11.10
Scoop Brancisco Participates in the Great Pentaluma Paint Out.

There was no way for Scoop Brancisco to miss the landscape painting competition in Pentaluma, a beautiful town located near Santa Rosa, California.

"It was hot," Mr. Brancisco recalls, "it's already mid-September. What the heck is earth thinking about? It's time to cool down a bit."

Artists were instruceted to paint outdoor from 9:30 AM to 2:30 PM, the hottest time of the day. Later, their works were awarded for first prize, second prize, and people's choice. Hot!

"Did I win any ward? Heck no! Landscape painting is too damn hot for me! I did come here aiming to win the first prize, but I changed my mind after they annouced the winners; art is not about winning or losing. It's not simple like that."

Changing the philosophy for competition after the announcement of winners is typical.

"Besides, I've got something much better than first prize..." Mr Brancisco continues, "I've got suntan."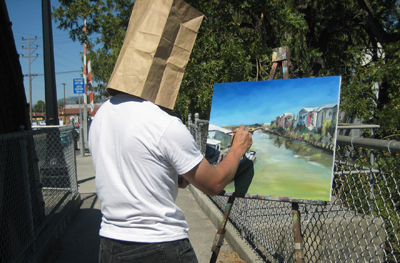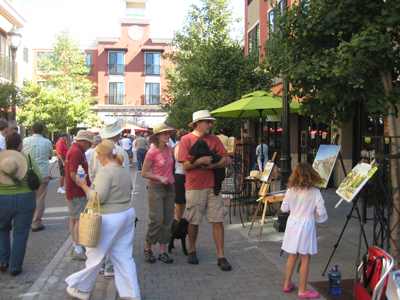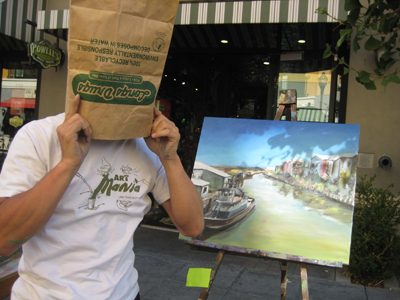 9.10.10
Scoop Brancisco Shows Some Stuff at Fillmore Art Walk



Scoop Brancisco shows some stuff at 3rd Annual Independence Artist Week exhibition.
IAW is a weeklong art event that celebrates and honor the independent artists who have given so much to their community and to the world by way of the visual arts, dance, music, film, journalism, fashion and many other infinite ways.

"It's great to be out there," Mr. Brancisco says, "musicians create music to be listened, cooks cook dishes to be eaten, and visual artists make works to be seen. That's the basic. Whether one is confident or not with his/her work, the first step is to show it. Show it to the world. Worry about what happens later."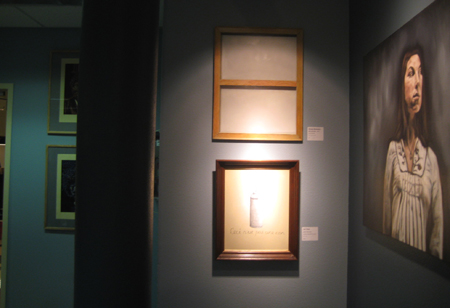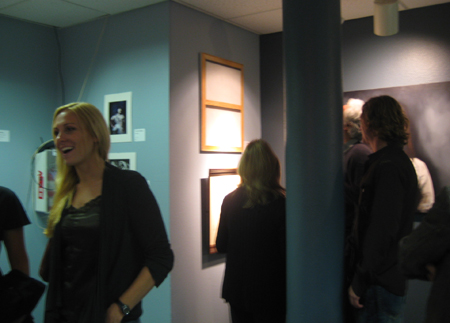 br>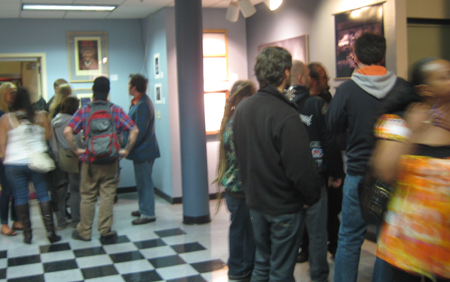 9.1.10
Scoop Brancisco Receives His Artist License

Scoop Brancisco finally receives his Artist's License.

"It's been a long path." Mr. Brancisco explains, "I don't think that getting this license would make my life any easier, but, at least, it makes it easier to say that I am an artist."

Having an identity crisis is common to have for any contemporary artist because there is no solid rule or description to stae that one is. The flexibility of the field seems to require artists to create their own (original) identities.

"I am glad that I finally have something that proves my artistic identity. Now, I feel like I can concentrate on art practice..."

One can obtain Artist License by applying through Global Art Organization.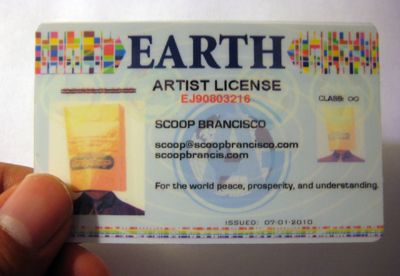 8.10.10
Scoop Brancsico Obtains More Paper Bags


Scoop Brancisco obtains more bags from Lo*g's Drug Store. He has been wearing their paper bags for quite some time. Mr. Brancisco explains the reason:

"The size, the smell, the lightness, the logo design...because of all these reasons, I can no longer wear anything other than this paper bag."

"Besides," Mr. Brancisco continues, "I love the store. They are open 24 hours and they sometimes have incredible deal with Vienna Sausage. Not only that. You can't imagine how many times my brain were blown away with deals such as-"

Mr. Brancisco continues to promote the incredible deals that L*ng's Drug Store has. However, whether he has permission to wear their bags in public is unknown.

"Well," Mr. Brancisco opens his mouth, "you know. No? I asked if I could get some bags for 'art practice', and the beautiful lady (cashier) was general enough to give my three extra bags without any charge. That doesn't happen often nowadays when the economy is bad. Wouldn't that be enough of 'a permission', yes?"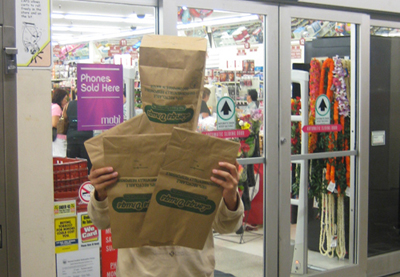 5.20.10
Scoop Brancisco Invents "Take Me Out There to The World Where I Can be Seen I'm Tired of Waiting I'm Tired of Being Passive Do it Already Jacket"

Scoop Brancisco has invented an innovative art product entitled: "Take - Me - Out - There - to - The - World - Where - I - Can - be - Seen -I'm -Tired - of - Waiting - I'm - Tired - of - Being - Passive - Do - it - Already - Jacket".

"Well," Mr. Brancisco explains, "the title of this jacket pretty much says it all...but I guess I was just getting really tired of seeing lonely paintings that were hung on walls without any one seeing them for a long time...completely forgotten from the world."

The "Take - Me - Out - There - to - The - World - Where - I - Can - be - Seen -I'm -Tired - of - Waiting - Jacket" functions as a mobile wall and allows people to bring their paintings along with them to wherever they go.

"For some time, I was searching for a more aggressive method to show my work." Mr. Brancisco continues, "Sure, hanging your works on gallery walls or uploading in your websites are some of the common/effective ways to do so, but they are still very passive."

The "Take - Me - Out - There - to - The - World - Where - I - Can - be - Seen - Jacket" is the answer for Mr. Brancisco as well as those who believe that their works deserve more attentions and don't mind carrying their world behind their shoulders.

"However," says Mr. Brancisco, "you've got to be careful about several things when you use this product. First of all, you should not lean on your back. You shouldn't fall asleep either. You can hang anything other than canvas painting, such as framed photos or fiber art, but it can't be that heavy nor too large in size. You obviously can't go to disco club and dance. Disco is no good. You can dance when you are at home, but be careful with the furnitures. Also, don't hang any 'wet' painting -you are going to make many enemies around you if you do so."

Made available and distributed by Scoop Brancis Co., the "Take - Me - Out - Jacket" is available worldwide.

The video commercial can be seen at the video page.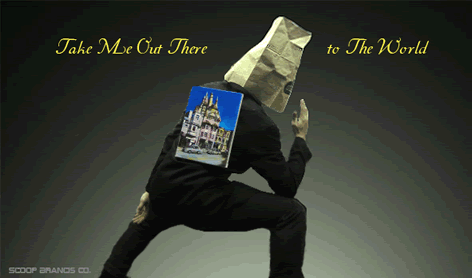 4.4.10
Scoop Brancisco Discovers Good News

Scoop Brancisco has recently discovered a good news that features the weather in San Francisco, California.

"It feels great to finally find something positive in the paper," Mr. Brancisco says, "which I have looked for for quite some time."

Positive energy creates positive results, and positive news creates positive energy. So positive news comes from...

"Good news is all over, actually," Mr. Brancisco continues, "it's just the way of persecption, I guess. Something as simple as, say, weather, tends to be taken for granted, but it tremendously affects my current work ethic."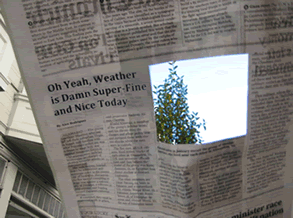 2.25.10
Scoop Brancisco Releases
"BREAK TIME"

Scoop Booracisco is releasing his new album, entitled 'BREAK TIME'.

"It's a shi**y album," Mr. Boorancisco claims, "the negative lyrics, out-of-pitch vocals, terrible music, the concept behind...they are all just a bunch of sh*t."

Mr. Boorancisco has spent 2-3 years recording such shi**y songs. It has been 7 years since his previous album, "Life Goes On", which never met a slightest commercial success.

"I am no musician nor any sort of the kind. I just don't have the right kind of talent for it-I know that well. But I do have the urge to write songs from time to time. It's not really about whether I'm good at it or not anymore. I want to record all the emotions I have had. That, I think is more direct and raw with writing songs than painting."

'BREAK TIME' is priced $0.00 and is now available for purchase worldwide.

Contact here for any question.

"Because a person's life is so short," Mr. Boorancisco concludes, "...one must think of how to leave a landmark. This album proves that I lived between 2007-2009, and because of that, I would not need to look back..."


Track Listing:

1. Nothing's Wrong
2. Invisible Boy
3. Muddy Day
4. What Are You Doing?
5. Shout
6. Unwanted
7. Back
8. Reset
9. Song of the UH
10. Darlin'
11. Every Little Thing in This Circle is Mine
12. I am Mine
13. Eternal Blue
14. Naa's Theme
15. Art 21.5